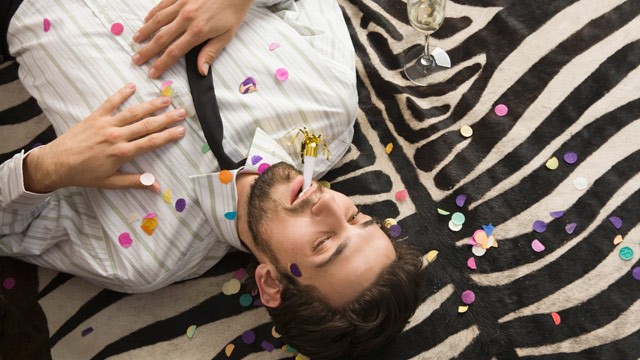 Now that we're past the halfway point in January and the motivation and buzz of the new year has passed, it's up to us to keep the momentum going throughout 2013.
The best way to start is by taking your resolution list, and burning it.
I would love to see someone take a picture / video of this.
Not only do I hate resolutions, some people are just awful at remembering their 30-item list. Just look at the dropoff of gym-goers since January 1st. The truth is, the longer the list, the more overwhelmed you'll get and less likely you'll take ACTION, let alone accomplish anything.
The important thing here is to keep things simple -- and the easiest way to do that is focus on a theme for the year. So for 2013, the theme we'll use to guide our development and future success is TRUST.
When I asked members of the Wingman Labs (my newsletter) what they're theme was, I got an amazing response but there was one email that stood out,
"...I think that 2013 should be the year of Trust. Trusting that the systems put in place will guide us toward success. Trusting gut instincts. Trusting friends to set us up. Trusting that we deserve more. Trusting our [new] partner, no matter how badly we have been hurt before. Trusting that voice in the back of our mind saying it's time to call in support/professionals. Trusting that the world is a beautiful place full of love -- because, after all, we only see what we look for, and we only get what we ask for."
For some of you, that might be too much "flower power," but the truth is when you trust yourself, it's hard to come short of success. In other words, doubt and skepticism for any reason other than to challenge the status quo will hold you back. This is not only important for your dating life, but for other aspects as well.
Here are three points to building trust that we'll focus on throughout the year.
1. It starts with you
When you focus on your own personal development and create more consistentcy in your life, you trust yourself more and project that out to people. People want to be around those they can trust. It's imperative when building comfort with a woman you're attracted to.
2. Do what you say
Don't just talk the talk, walk the walk. Follow through is so important in dating, from telling someone you're going to call them, to other levels of commitment you agree to. Being unreliable is one of the worst characteristics anyone can have.
3. Make your actions bold and assume the best in others
Speak openly, honestly without apology, and explain your reasoning. And unless she proves otherwise, assume she is trustworthy. When you see the good in people and shift focus from what you think might be bad, it makes it easier to have genuine connections with people.
Trust and risk go hand-in-hand
And yes, there is great risk in trusting -- but think about the risk in NOT trusting. When you extend trust, it becomes contagious; people extend it back to you. When you hold trust back, people tend to hold theirs back, leading to distrust.
But in order to extend trust, trust needs to originate from within. This isn't about going into situations blind or believe everything you see / hear. This is about being smart with your judgment so you can minimize the risks you take and open up new doors filled with possibilities.
This the global theme. On Tuesday, we'll get into specifics.